Norbit WBMS-FLS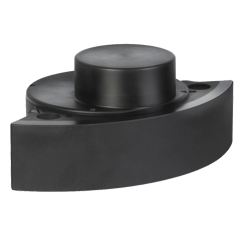 Norbit WBMS-FLS Forward Looking System for High Resolution Imaging

Norbit WBMS-FLS is a new advanced ultra-compact Forward-Looking Sonar (FLS) designed especially for use on floating platforms. WBMS-FLS is the best choice to ROV, AUV for detection, inspection, obstacle and collision avoidance as well as search applications.
The wide band technology allows long range real-time image updates, whilst simultaneously achieving high range resolution allowing you to explore more. With low power consumption, the system may be operated for a full day on a single deep cycle battery.
By having an external Inertial Navigation System (INS) connected to the sonar, ensure a fast and reliable vessel mobilisation for quality surveys.

Norbit WBMS-FLS Multibeam Technical Spesifications

Multibeam, Side Scan, Snippets, Backscatter, Water Column
Depth Range: >250 m @400khz
Horizontal Coverage: 7° - 180°
Vertical Coverage: >25°
Angle Resolution: <0.9°
Operating Frequency: 400kHz +/- 40khz
Power Consumption: 30W
Norbit WBMS-FLS System Components
Brochures
Turkish Technical Brochure