Klein Ma-X View 600 - Side Scan Sonar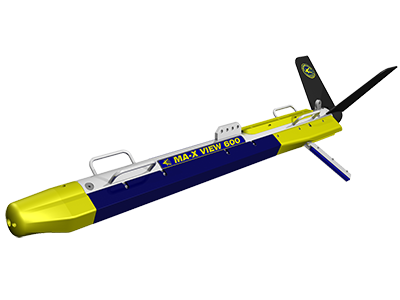 Klein Ma-X View 600 - Side Scan Sonar of Future
Klein Ma-X View 600 is a high-level system that can close the waterfall area under the tow without any gap in one pass. The biggest problem is eliminated by this way during data collections and the measurement speed increases significantly.
MA-X VIEW 600 side scan sonar side scan sonar delivers unprecedented focused 600kHz imagery at an optimum range of 100 meters with capability of reaching 240 meters.
MA-X Technology provides imaging of the nadir zone (gap) with the same interpretive characteristics of side scan sonar improving survey times by approximately 40%. This means 40% less survey time at sea, 40% less fuel consumption and a higher probability to complete the survey in a window of good weather.
Key Features:
Complete Nadir Coverage
40% increase in survey efficiency
600 kHz Side Scan/850 kHz Nadir
Broadband CHIRP
Klein BLUE TECHNOLOGY for Superior imaging performancei
Depth Rated to 300 m
Ergonomic design and one-man deployable
Smart Telemetry
Operates on AC or DC Power
Brochures
Turkish Technical Brochure