Hemisphere Vector VS330 GNSS Receiver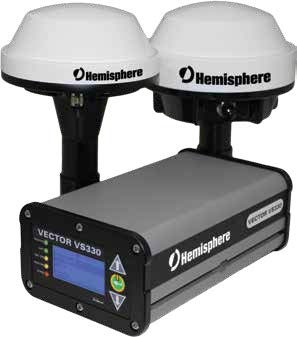 Hemisphere Vector VS330 GNSS RTK Heading & Position Receiver
Vector Hemisphere VS330 GNSS receiver and compass supports GPS/GLONASS L1 and L2 signals, with RTK capability. It utilizes the Eclipse™ GNSS technology to provide reliable positioning results for precise marine and land applications that require highly accurate heading and RTK position.
Vector Hemisphere VS330 offers excellent multipath mitigation, which can effectively reduce signal interferences caused by multipath, which happens when signals are being reflected from surfaces such as windows of building, trees, or even the ground. Furthermore, the VS330 receiver is equipped with two antennas that can be mounted separately according to the needs of the user-application.
VS330 Hemisphere heading receiver, with its display and user interface, can be conveniently installed near the operator. The two antennas are mounted separately and with a user-determined separation to meet the desired heading accuracy. The Vector VS330 uses L-band DGNSS/HP/XP and SBAS (WAAS, EGNOS, MSAS, etc.) for differential GPS positioning.
Features
Extremely accurate heading with both short and long baselines up to 10 km
Strong multipath mitigation and interference rejection
Receiver Type: Vector GNSS L1/L2 RTK Receiver
Serial Ports: 2 full-duplex RS232, 1 half-duplex RS422 port
L-band DGNSS/HP/XP(OmniSTAR®) capable
Athena™ RTK, Atlas® L-band, Beacon and SBAS capable
Fast RTK acquisition and reacquisition times
Integrated gyro and tilt sensors help deliver fast start-up times and provide heading updates during temporary loss of satellites
Technical Specifications
Signals Received: GPS, GLONASS, BeiDou, and Atlas
Channels: 540
Sensitivity: -142 dBm
SBAS Tracking: 3-channel, parallel tracking
Update Rate: 10 Hz standard, 20 Hz optional Timing (1PPS)
Maximum Speed: 1,850 mph (999 kts)
Maximum Altitude: 18,288 m (60,000 ft)
Differential Options: SBAS, Beacon, External RTCM, Atlas L-band and Athena RTK
RTK Accuracy: Hor. 10 mm + 1 ppm, Ver. 20 mm + 2 ppm
Heading Accuracy: 0.05˚ rms @ 2.0 m antenna separation
Heave Accuracy: 30cm(DGPS), 10cm(RTK)
Power Consumption: 5.3 W nominal (GPS L1/L2 + GLONASS L1/L2)
Broşürler