Hemisphere S321+ GNSS Smart Antenna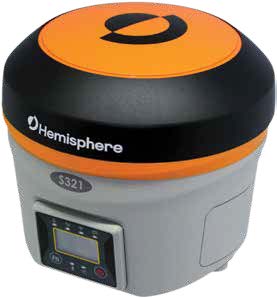 Hemisphere S321+ GNSS Smart Antenna
S321+ is Hemisphere's new multi-GNSS, multi-frequency smart antenna. The S321+ provides robust performance and high precision in a compact and rugged package. With multiple wireless communication ports and an open GNSS interface, the S321+ can be used in a variety of operating modes for marine operations and land applications.
S321+ Hemisphere powered by the Eclipse P326 OEM board, the smart antennas support 394 channels and can simultaneously track all satellite signals including GPS, GLONASS, BeiDou, Galileo and QZSS, making them robust and reliable.
S321+ Hemisphere receiver is powered by Athena RTK technology. With Athena, S321+ provides state-of-the-art RTK performance when receiving corrections from a static base station or network RTK correction system. With multiple connectivity options, the S321+ allows for RTK corrections to be received over radio, cell modem, Wi-Fi, Bluetooth, or serial connection. S321+ delivers centimeter-level accuracy with virtually instantaneous initialization times and cutting-edge robustness in challenging environments.
Atlas is Hemisphere's industry-leading global correction service, which delivers world-wide centimeter-level correction data over L-band communication satellites.
Features
Multi-Frequency, Multi-GNSS (GPS, GLONASS, BeiDou, Galileo, QZSS)
Athena™ RTK engine and Atlas® L-band global corrections
Dual hot-swappable lithium batteries provide 12 hours of battery life
Wi-Fi, UHF, Cellular, and Bluetooth wireless communication
Powerful WebUI control accessed via Wi-Fi
8 GB internal memory for data logging, download and upload
Internal tilt sensor corrects the collected point coordinates, to a maximum inclination of 15°, in accordance with the tilt angle and direction of the range pole
Technical Specifications
Receiver Type: Multi-Frequency GNSS
Positioning Modes: RTK, L-band, DGNSS, SBAS, Autonomous
Signals Received: GPS, GLONASS, BeiDou, Galileo, QZSS, IRNSS and Atlas
Channels: 572
RTK Formats: RTCM3, ROX, CMR, CMR+
L-Band Formats: Atlas H100, Atlas H30, Atlas H10
GPS: L1CA, L1P, L2P, L2C, L5
GLONASS: G1, G2, P1, P2
Galileo: E1BC, E5a, E5b
SBAS: MSAS, WAAS, EGNOS, GAGAN
Positioning Accuracy: RTK: Hor. 8mm+1ppm
Cellular: PLS8-E (International): 4G, PLS8-X (North America): 4G
Battery Life: 12-hour operation from two batteries with UHF radio in Rx mode
Broşürler