Hemisphere C321+ GNSS Smart Antenna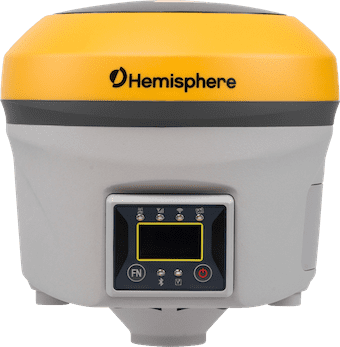 Hemisphere C321+ GNSS Smart Antenna
A rugged base station for your machine control jobsite or a rover to assist with grade control checking and construction staking activities.
Hemisphere's C321+ multi-GNSS, multi-frequency receiver paired with a Windows based handheld device and Hemisphere's SiteMetrix™ field software platform is the ultimate tool to manage all your jobsite activities.
Grade management
Graphical stakeout
In-the-field volume calculations
Enhanced graphics for data collection
Import/export files for machine control
Real-time cut and fill information
Use the C321+ as a precise base station sending RTK corrections to your existing fleet of machine control systems and rovers via the internal UHF radio or an external radio. The C321+ receiver can also be tuned into a network rover receiving corrections from your jobsite base station or via the internet. Market-leading technology delivered at competitive prices make Hemisphere's C321+ the ideal receiver for your high-performance satellite positioning needs.
Features
Base station with internal UHF radio
UHF rover
Network rover
Multi-GNSS including GPS, GLONASS, BeiDou, QZSS, Galileo, SBAS, and L-band
Athena™ RTK engine and Atlas® L-band global corrections
Dual hot-swappable lithium batteries provide 12 hours of battery life
aRTK™ capabilities - Satellite-based RTK augmentation
Technical Specifications
Receiver Type: GNSS Position RTK Receiver
Positioning Modes: RTK, L-band, DGNSS, SBAS
Signals Received: GPS, GLONASS, BeiDou, Galileo, QZSS, IRNSS and Atlas
Channels: 572
RTK Formats: RTCM3, ROX, CMR, CMR+
L-Band Formats: Atlas Basic, Atlas H30, Atlas H10
GPS: L1CA, L1P, L2P, L2C, L5
GLONASS: G1, G2, P1, P2
Galileo: E1BC, E5a, E5b
SBAS: MSAS, WAAS, EGNOS, GAGAN
Positioning Accuracy: RTK: Hor. 8mm+1ppm
Cellular: PLS8-E (International): 4G, PLS8-X (North America): 4G
Battery Life: 12-hour operation from two batteries with UHF radio in Rx mode
Broşürler