Hemisphere A222 GNSS Smart Antenna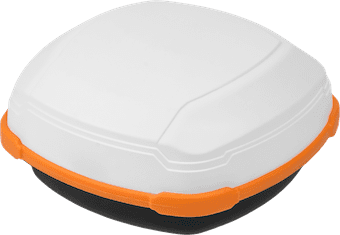 Hemisphere A222 GNSS RTK Alıcısı
A222 Hemisphere GNSS Smart Antenna offers professional-level accuracy for agricultural, marine, GIS, mapping, and other applications.
Focus on the job-at-hand with fast start-up and reacquisition times, 60 cm accuracy, and an easy-to-see LED status indicator for power, GNSS and DGNSS. The durable enclosure houses both antenna and receiver can be powered through various sources, making the A222 smart antenna ideal for a variety of applications. Dual-Serial, CAN, and pulse output options make this DGNSS receiver compatible with almost any interface.
A222 Hemisphere is supported by Hemispheres Atlas, which allows you to update firmware and take advantage of Atlas subscriptions for accuracies from meter to sub-decimeter levels.
Features
Atlas L-band corrections
Exclusive Atlas Basic option available when other differential signals are not practical
Scalable accuracy within a single product for different use cases
Environment-proven enclosure for the most aggressive user scenarios
Compact, low-profile design with fixed or magnetic mounting options make it ideal for portable and dynamic applications
Technical Specifications
Receiver Type: Scalable dual-frequency, multi-GNSS RTK
Signals Received: GPS and GLONASS
Channels: 114
GPS Sensitivity: -142 dBm
SBAS Tracking: 3-channel, parallel tracking
Update Rate: 10 Hz standard, 20 Hz optional (with activation)
Maximum Speed: 1,850 kph (999 kts)
Maximum Altitude: 18,288 m (60,000 ft)
Horizontal Accuracy: RTK: 8 mm + 1 ppm, SBAS (WAAS): 0.3 m
Serial Ports: 2 full-duplex RS-232, CAN
Broşürler